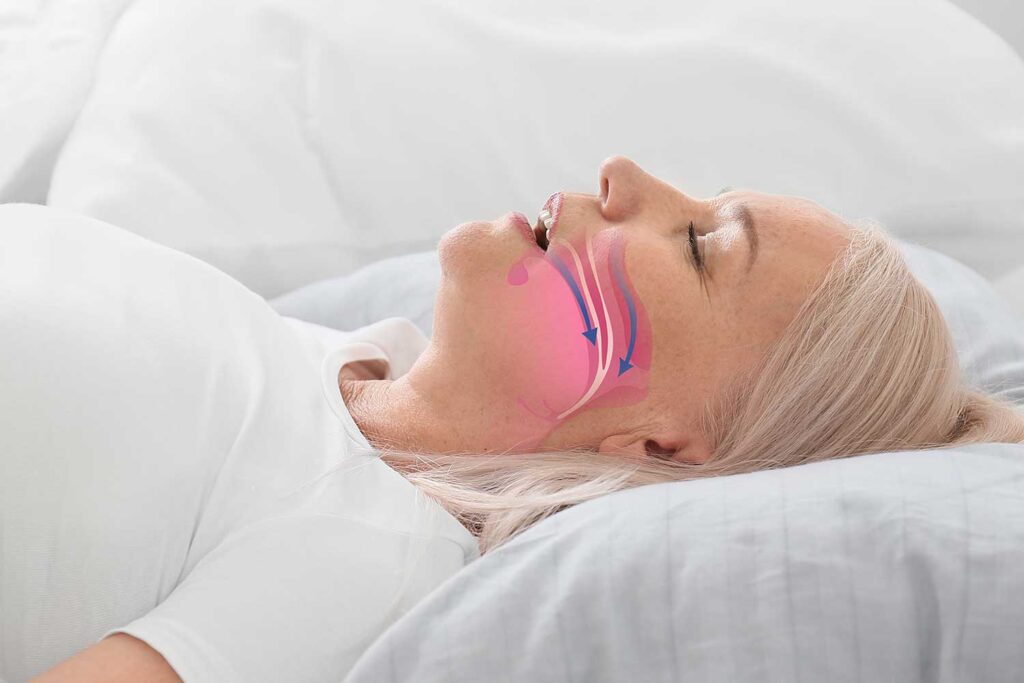 The amount of sleep you get and its quality are affected by multiple factors, including your lifestyle, nutritional choices, weight, nighttime routine, and your sleep environment. Millions of people suffer from sleep apnea, which has a deleterious impact on sleep quality. According to the American Medical Association, an estimated 30 million Americans suffer from obstructive sleep apnea (OSA), but only six million are diagnosed. Certain factors increase your risk of developing obstructive sleep apnea, including your weight, neck size, and age. If you have this disorder, the position you sleep in each night also affects the number of episodes you have each night.
Positional Obstructive Sleep Apnea
People who have sleep apnea have brief pauses in their breathing throughout the night. OSA is the most common type of this disorder and occurs when the tongue and soft tissues of the upper airway relax while you are sleeping. When they relax, they can block your airflow. Sleep apnea episodes involve the pause of breathing for a few seconds. During an episode, your oxygen levels decline, causing your sympathetic nervous system to respond and increase both your heart rate and blood pressure. Your breathing will then restart and might cause snoring.
Positional obstructive sleep apnea happens when most of the episodes are attributed to the position of sleep. If you sleep on your back, the size and shape of your airway will be altered. This position increases the chances of having an episode of sleep apnea.
Complications of Untreated OSA
People whose obstructive sleep apnea or positional obstructive sleep apnea are untreated will struggle to get enough rest and will often feel tired. However, OSA can also cause other severe consequences. Repeated drops in oxygen levels combined with increases in heart rate and blood pressure can place strain on the heart and circulatory system.
This can lead to the following complications:
Stroke
Cardiac arrest
Type 2 diabetes
Motor vehicle accidents
Treatment
Treatments for sleep apnea might include the following:
Positional sleep therapy
Oral devices for sleep apnea
CPAP treatment
Lifestyle changes
Weight loss
Researchers have found that positional sleep therapy is just as effective for treating positional OSA as wearing an oral device. Another study of patients who received positional sleep therapy demonstrated that they showed a significant decline in the severity of episodes of positional OSA during the night over 12 weeks.
Approximately 50% of people who have OSA have positional OSA, so altering the sleeping position might be beneficial for many people. Leaving any type of sleep apnea untreated carries health risks. The right treatment for you will depend on the type of apnea you have, the severity of your condition, your ability to comply with using therapeutic devices, and your personal preferences.
The most successful treatment for people who suffer from OSA is the treatment to which they are most likely to adhere. Compliance with oral devices and CPAP machines is low. Thankfully, positional OSA might be treated with positional sleep therapy, which is non-invasive and much simpler for people to learn and adhere to.
Talk to Accent Sleep Solutions
If you struggle to get enough sleep or feel tired every day even though you think that you are sleeping a normal amount, you should talk to the sleep professionals at Accent Sleep Solutions in Gainesville, Florida. Call us today for an appointment at (352) 271-5375.